Morax wins Player Councillor vote

We thank FTXCommando for his service and dedication over the last two years
New Code of Conduct

Brutus provides us with an updated code of conduct. FAF is focusing on becoming a more relaxed and friendly community.
Cast: Carnage Generator!

Ever wondered what would happen if you put buncha bloodthirsty noobs on small map? Well, wonder no longer as the carnage unfolds!
Save Paradise OR die trying!

Check out this new survival map by Captain Klutz! It supports almost every mod and it has overpowered experimentals!
Endranii's Brutal Setons Cast
Raids? Check! Drops? Check! Nukes? Check! Epic? MEGA CHECK! Endranii does another great cast on the classic Seton's Clutch!
Improve at FAF!
Emperor_Penguin gathered different guides and links for you to improve your skills! Starting from 492 words to 27,175 words per guide!
FA Modern Trailer Contest

Join an unofficial contest to create a new, up to date trailer for Forged Alliance highlighting modifications by Forged Alliance Forever.
Survey: Map-wide assets

Have your say and give Jip your thoughts on maps with map-wide assets.
FAF Association – June '21 update

Check out the latest update from the president of the FAF association.
+ Add a New Story

If you have some content you would like featured on newshub, please get in touch.
Streams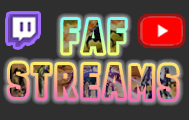 Check out these streamers on Twitch where you can watch high level team games, 1vs1 and coverage of live tournaments
Tournaments
A roundup of the upcoming tournaments in the FAF community.
Job Board
FAF is hiring … some volunteers! We are currently seeking a java profiler, chatbot maintainer, and news editor.
FAQ
Get the answers to all the questions you have yet to ask!
ARCHIVE
Projects
Here are some of the development projects created by our community. If you have a project I would love to hear from you.Links: Rainmakers Survival
Ladder
FtxCommando orchestrates the Ladder Pool & Ladder League.Current Links:Discord (at FAF Creative)Current Ladder PoolLadder Rotation/System CommentsLeague SystemLeague Leaderboard Archive:Ladder Pool AdjustmentsEnd of League 7New Ladder System
Development
Here lies the updates for balance, the game, the client & the server.Links: New Chat EmojisLatest Features for the FAF clientRussian NewshubОбъединяя страныMap Gen AutohostFAF Beta ChangelogHow the FAF cogs keep spinningHow rating brackets are determinedHow Matchmaker matches playersTMM is hereClient v1.4Mapban is LiveNew Balance CouncilorCheckin with MapgenFAF 4K Graphics UpgradeNew Map Veto SystemBalance Patch […]
Creative
The Creative community primarily focus on map and mod creation.DiscordLinks:Help create the next-gen mapHow to improve forever – 6 lawsUI mod guide for the improving playerNew map: Adaptive MoonMix it up with: KoTHMix it up with: Traitorsarma473's Ladder GuideDIY Balance ModCreative Councilor RoadmapAppeal processChef keyser's ui mods recipeM&M Update
Contribute
Do you want to contribute to FAF? Here are some ways you can help.Links:FAF Association UpdateFAF AssociationThe Good Cast ThreadJob boardPre-release testersSpam ArmyContributor TutorialPatreon
Promotions
Dedicated to growing FAF Links:DiscordGet your content on the newsJoin the Spam Army
From the Internet
RTS content from around the webInterview Links:Chris Taylor interview with Noise FilterInterviews with Supcom team & nine2Other Links:The Art of Kevin PunThe Art of Avitus12Bonus disk runthroughMaking of Supreme Commander 1Strategy With Chris TaylorlilSidlil's screenshotsMaria Law fan artRemastered CinematicsDune 2 restrospectiveThe future of RTS